Hotel deals & weekend packages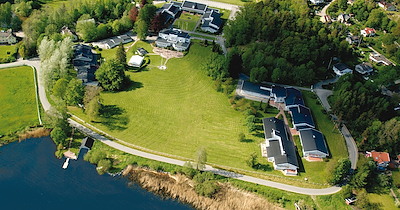 Hiking package
HIKING PACKAGE AT ASPENÄS HERRGÅRD Experience hiking in fantastic nature, good food and sleep well in homely rooms!
Book package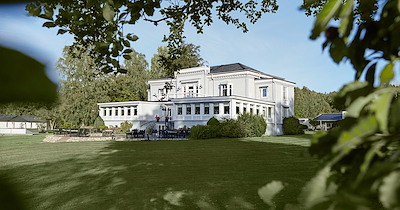 Herrgårdspaketet
Upplev en lugn miljö intill sjön Aspen med god mat och boende på Aspenäs Herrgård
Book package
Klättringspaket
Upplev ett aktivt sportlov hos oss mellan 15/2-25/2
Book package
Read more about Aspenäs Herrgård
Aspenäs Herrgård has for more than a hundred years been a place for good meetings, togetherness and fellowship. This wonderful mansion is located just outside Lerum, by Aspen's lake shore. From Gothenburg it is only a twenty minute journey to us. Close, but far enough away to exchange the city noise for the rustling of trees and the gurgling waves of the lake. In a welcoming and calming atmosphere, it is easy to be together and focus on what is important to you.
Enjoy good manor-style food and carefully selected drinks in our restaurant, which also offers a beautiful view of Lake Aspen, or take your meal home as a take away. Here all meals are served with the same care.
Number of rooms: 112
Number of single rooms: 43
Number of double rooms: 69
Total number of beds: 181
Number of bars: 1
Number of restaurants: 1
Number of conference rooms: 12
Max number of conference participants: 240
Number of break-out rooms: 21
Breakfast buffet
Non smoking hotel
Newspapers
Non smoking rooms
Bar
Restaurant
Dogs allowed
Defibrillator
Dart
Canoeing
Hiking
Sauna
Fitness center
Exercise path
Hiking trail
Free WiFi
Internet in room
Lake
Parking on site
Restaurant
Richard J – 5/5
"Nice environment and good food as well as service-oriented staff. Just be here for dinner and I can recommend it."
Natalie W – 5/5
"Perfect rooms for conferences, trainings, meetings etc.

Incredibly nice place. Top class lunch and dinner. The main building is super cozy and genuine. The rooms are fresh and nice!"
David W – 4/5
"Nice hotel with even better location on Lake Aspen. The rooms are a bit small but there is basically everything you need. The restaurant would have received the highest rating if it were not for the narrow menu. Only one option for starter and dessert limits a bit. However, top class on the options that were available."
Number of rooms: 112
Number of single rooms: 43
Number of double rooms: 69
Total number of beds: 181
Number of bars: 1
Number of restaurants: 1
Number of conference rooms: 12
Max number of conference participants: 240
Number of break-out rooms: 21
Breakfast buffet
Non smoking hotel
Newspapers
Non smoking rooms
Bar
Restaurant
Dogs allowed
Defibrillator
Dart
Canoeing
Hiking
Sauna
Fitness center
Exercise path
Hiking trail
Free WiFi
Internet in room
Lake
Parking on site
Restaurant
Richard J – 5/5
"Nice environment and good food as well as service-oriented staff. Just be here for dinner and I can recommend it."
Natalie W – 5/5
"Perfect rooms for conferences, trainings, meetings etc.

Incredibly nice place. Top class lunch and dinner. The main building is super cozy and genuine. The rooms are fresh and nice!"
David W – 4/5
"Nice hotel with even better location on Lake Aspen. The rooms are a bit small but there is basically everything you need. The restaurant would have received the highest rating if it were not for the narrow menu. Only one option for starter and dessert limits a bit. However, top class on the options that were available."